Show Your Faith With Every Step
Comfortable. Well Crafted. Faith Inspired Sandals.
Faith Inspired
Well Crafted
Support Small Business
★★★★★

"Purchased these as gifts for friends. We wore them on the beach, where we left many crosses in the sand. Love how we were able to shine the love of God through these Sandals" - Kelly P
★★★★★
★★★★★

"I got mine and I absolutely love them! I order them in every color because I just love the whole premise of witnessing without even having to talk!" - Kathy M
★★★★★

"I think they wonderful. Spread God's Love in many ways... People read T shirts, and wear cross pendants... anyway you can plan a Seed is a good thing. The Footprints in the sand is a beautiful idea." Stephen R.
★★★★★

"I can't say enough good things about this company!! I ordered a pair for my husband's birthday and got the wrong size. He messaged with his phone # and the owner picked up and sent out a new pair. He has his new pair two days later. I can't recommend them enough!" - Kari B
★★★★★

"I love spreading the Love of Jesus" - Stacey Z
★★★★★

"I bought 2 pairs of sandals for me and my wife 3 months ago, and we have used them almost everyday. They are very comfortable and they seem to be very durable since they still look in excellent condition!. We use them to relax around the house and even to go for walks around the neighborhood. They are definitely my wife's and my favorite sandals!" -Isidro S
★★★★★

"Sandals are comfortable, they look great, and customer service was great helping me figure out what size to get. Would buy again and everyone asks me where I got them." - Michael C.
★★★★★

"Beautiful quality and message!! Praise Jesus!" - Brittany I.
Show You Care With What You Wear
Live out your values and make a lasting impression with each purchase.
Pair Comfort With Quality
Slip on high-quality sandals for any occasion that won't bust your budget.
Find Thoughtful Gifts
Put purpose behind the gifts you purchase.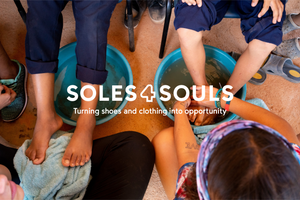 Soles4Souls - Buy one Give one Mondays
When people lack the resources to get through today, it's difficult for them to focus on tomorrow. Most sandals are built for style and comfort, there is very little deeper meaning. That is why Walk in His foosteps is partnering with Sole4Souls to provide opportunity to provide shoes and clothing into opportunities for education and employment so they can have a more hopeful future. Sharing new sandals to those in need is just one more way you can "Walk in His footsteps".
Every Monday we will match a pair of sandals for every pair sold and donate to Soles4Souls on your behalf!
Fast & Free Shipping
All sandals ship within 24 hours.
All orders over $100 ship for free
Money-Back Guarantee
We offer a 30-day money-back guarantee, no questions asked.
Flexible Returns
You've got 30 days to exchange and the shipping is on us. 
Payment Plans
With Shop Pay, you can  pay on a schedule that works for you.
Cross-Bottom sandals
Great conversation starter
Share your faith by leaving His mark with every step!
shop now ⟶
Talk to us!
Feel free to reach out to us if you have any questions or concerns and we'll get back to you as soon as possible.